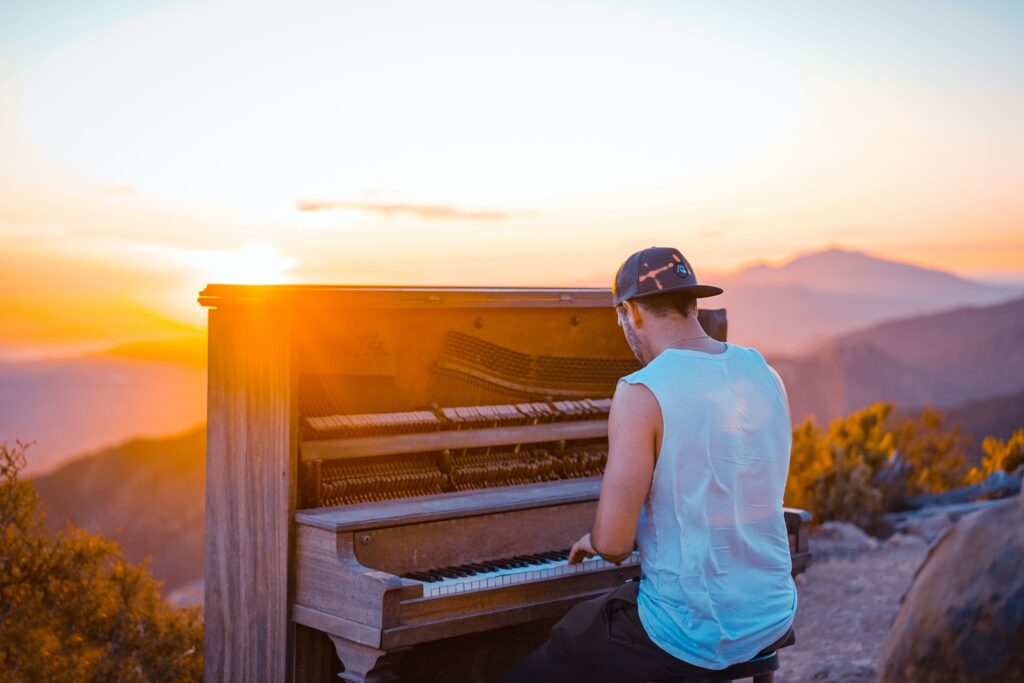 There is something special about traveling and being away from the hustle and bustle of life. It seems I always encounter the Lord in a tangible way when I travel. It's like the Lord is waiting on me. However, I'm sure it's because I spend more quality time with him, and I'm more intentional with my time in the Word and journaling. But something was different on my last two trips. The Lord was speaking very clearly to gather the worshipers.
While I was in London, England, I felt the same urge rise up in my spirit again and I knew I needed to make it happen. It was time to act. Once I returned to the States, I met with a couple of my friends and family and scheduled the first two meetings.
I want to encourage you when the Lord is speaking – listen. When the Lord is telling you to step out – step out. Don't overthink it. Don't make it hard. Just obey. He will work out the details.
Last week, several of my friends gathered in my living room and the Lord showed up in such a powerful way. I was surrounded by friends who just wanted to worship. Just wanted to seek God's face with no other agenda. We just wanted to create an atmosphere for God to move. Not restricting Him to a timeline. Just offering a sweet aroma of worship.
Several times in worship I could hear everyone singing so loud – overtaking the small worship team. It was beautiful. Simple. It was God.
One thing I love about God's presence is that there's always peace. Each song that was sung released another layer of freedom and unity. Spontaneous prayer for healing, speaking life over the men in the room, and releasing a prophetic word the Lord gave me that morning. We could have stayed there all night.
I love how the gifts wake up in His presence and He stirs the prophetic so sweetly. My passion is to always create an atmosphere where others can share what God is doing or what they're hearing and seeing.
I charge you to Gather the Worshipers in your community.
The testimonies were so powerful, and I can't wait to meet again this month. I feel the momentum building already, and I have great expectancy in what God is doing.
I don't know what the Lord is prompting you to do, but I encourage you to do it. Don't delay. Don't make it complicated. Just step out.
---
The Prophetic Word that was released:
I declare PEACE from the heavens over you. A peace that billows over every thought, every memory, every fear. Peace that transforms our minds and heals our souls.
I know you are a man. A woman. But I search your hearts and heal to the core. There is nothing I don't see. Nothing that's too hard for me.
I alone created you and know just what you need and how to console you.
I love to be the lifter of your heads and awaken you to truth, to hope, and watch you embrace your kingdom authority.
I want to grow you strong. courageous. faithful.
Long to see your roots grow deep and not shallow… This is the time to truly surrender in every area of your life so I can empower you with the richness… the depth of my Word.
I want more than your heart. I also want your will.
Allow me to invade your world. Your every thought. Every fear.
Let me shape and mold your will to align with mine.
I love you and there's nothing you can DO to outrun my love. Nothing you can SAY to outrun my love. I've called you by name, and you are mine!
I'm sifting you today, but know it's not a request from the enemy's wishes…
I am sifting you to teach you how to STAND.
Teach you how to LIVE.
SEE.
HEAR.
OBEY.
Love is personal. It's about me and you.
Now that I have your attention…
I want you to see me correctly. I want you to step out of your religion.
Desire you to KNOW ME.
I want you to FEEL ME.
I'm going to DIRECT your steps and you will KNOW it's Me.
I'm about to rearrange some wrong thinking and wrong theology. I want you to walk in a KNOWING. Because it's personal.
You are the leaders of your families… and it starts with YOU!
My love is RAGING over you …
like the fierceness of the waters crashing into the cliffs.
My love is ROARING over you…
like a lion over his pride.
My love is WOOING you into my presence…
I'm calling YOUR NAME out loud.
Gather the Worshipers…
I hope this blog and prophetic word have encouraged you.
Love and prayers,
Julie Giordano